Museums
222 Harrington Way, Worcester, MA 01604, 508-929-2700
Sun: 12:00 PM-5:00 PM, Mon: Closed, Tue, Wed, Thu, Fri, Sat: 10:00 AM-5:00 PM
New England's leading museum for science and nature, the EcoTarium is an indoor-outdoor experience designed to inspire a passion for science and nature in visitors of all ages. Open year-round,the museum features three floors of interactive exhibits and is home to live animal habitats, nature trails through forest and meadow, shows in the Alden Digital Planetarium:A National Geographic Theater, and walks up in the Tree Canopy Walkway (seasonal).
Upcoming Events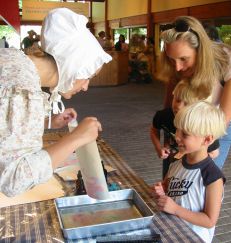 1 Old Sturbridge Village Road, Sturbridge, MA 01566, 800-733-1830, 508-347-3362
Old Sturbridge Village is a "must-see" destination to experience early New England life from 1790-1840. One of the country's largest living history museums, the Village welcomes visitors with costumed interpreters, 59 historic buildings on 200 acres.
Upcoming Events
11 French Drive, Boylston, MA 01505, 508-869-6111
Sun: 9:00 AM-5:00 PM, Mon: Closed, Tue, Wed, Thu, Fri, Sat: 9:00 AM-5:00 PM
A year-round living display of blooming plants, including trees, shrubs, perennials, annuals, tropicals, and more. With a panoramic view of Mt. Wachusett region, walking trails, gift shop, and cafe.
Upcoming Events
55 Salisbury St, Worcester, MA 01609, 508-799-4406
Sun: 11:00 AM-5:00 PM, Mon, Tue: Closed, Wed: 11:00 AM-5:00 PM, Thu: 11:00 AM-8:00 PM, Fri: 11:00 AM-5:00 PM, Sat: 10:00 AM-5:00 PM
where art celebrates life
Upcoming Events
30 Elm Street, Worcester, MA 01609, 508-753-8278
Sun, Mon: Closed, Tue, Wed, Thu, Fri, Sat: 10:00 AM-4:00 PM
Worcester Historical Museum (WHM) is the only institution devoted to local history. It includes a research library of over 7,000 titles, an archive that houses thousands of documents, and a collection of artifacts, all vital to the study of Worcester history. A few examples of WHMs holdings include correspondence of abolitionist Abby Kelley Foster, Blackstone Canal Company records, Civil War era diaries and letters, and artifacts related to Worcesters industrial past including early woodenware and ceramics, weaponry from the colonial era through World War II, paintings and sculptures, and a significant costume and textile collection.

WHM also owns and operates Salisbury Mansion, Worcesters only historic house museum. Built in 1772, it has been restored to its 1830s appearance and one of the best documented historic houses in New England. Thanks to the voluminous family papers, preserved at the American Antiquarian Society, it is one of the best documented historic houses in New England.

Worcesters history is interpreted through a calendar of exhibitions, educational programming, tours and publications. WHM features both permanent installations and changing exhibitions.

Find out what Worcester was like in centuries past in the library's reading room. The library is open Wednesday-Saturday from 10:00 AM-4:00 PM. The Library and Museum are open until 8:30 PM, every 4th Thursday of the month.
Upcoming Events
Powered by the Social Web - Bringing people together through Events, Places, & Common Interests